Nya Macbook Pro har stöd för ljud via Mini Displayport
Apple är inte direkt tydliga med det, men i senaste uppdateringen av Macbook Pro ingår även stöd för ljud via Mini Displayport – något som finns med i standarden men som Apple inte förrän nu implementerat.
Att Apple valt att satsa på Displayport istället för HDMI finns det flera orsaker till – men för konsumenten har det inte direkt vart en fördel. Utbudet av vettiga lösningar för att ansluta skärmar med annan standard har länge varit bristfällig och vill man ha ljud via HDMI har man vart tvungen att hämta det från USB eller ljudutgången – en nödlösning på ett problem som inte borde finnas.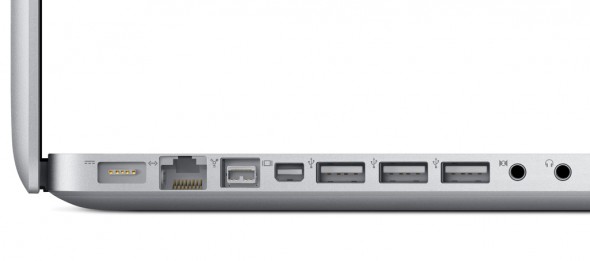 Det är Ars Technica som rapporterar om stödet för ljud via Mini Displayport vilket dom även fått bekräftat från Apple. Den enda information vi hittar hos Apple är bland den tekniska informationen om grafik och video, vilket inte finns på äldre modeller:
HDMI-utgång med Mini DisplayPort-till-HDMI-adapter från tredjepartstillverkare (tillval)

Källa: Apple Macbook Pro
Informationen hos tredjepartstillverkare huruvida befintliga kablar och konverterare till HDMI stödjer ljud är ännu bristfälligt – dom som anges stödja standarden för Displayport bör fungera. Allt vi hittat i något sånär klartext är under ett par av de enklare adaptrarna:
*NOTE*  AUDIO:  This adapter will support audio only if your source device allows audio output through the Mini DisplayPorts interface.  If you're not sure, please check with the manufacturer or website to confirm if your device allows audio out through the Mini-DP interface.
Note: Compatible only with Mac computers with Mini DisplayPorts.  Current Apple Macbooks may not support audio through the Mini DisplayPort. Review your manual for audio transfer capabilities.

Källa: Kanex iAdapt HDMI
Vi passar även på att tipsa om kablar från Mini DisplayPort till DVI-I (analog och digital) på upp till tre meter från Deltaco som finns att köpa hos Dustin – den slutgiltiga pusselbiten för oss som inte vill ha korta adaptrar och förlängningskabel som är otympligt och ser fula ut.