Använd Google för valutaomvandling
Nog har du väl stött på behovet av att få reda på hur mycket 40 amerikanska dollar är värda, eller hur långt 4¾ tum är? Allt det kan miniräknaren i Mac OS X svara på, men ett ofta snabbare sätt är att fråga Google.
Chansen att du redan har webbläsaren igång på datorn är nog större än att Kalkylator ligger och rullar i bakgrunden. I och med det så är vägen till googlesökfältet ganska kort, och därmed även vägen till enhetsomvandlingar.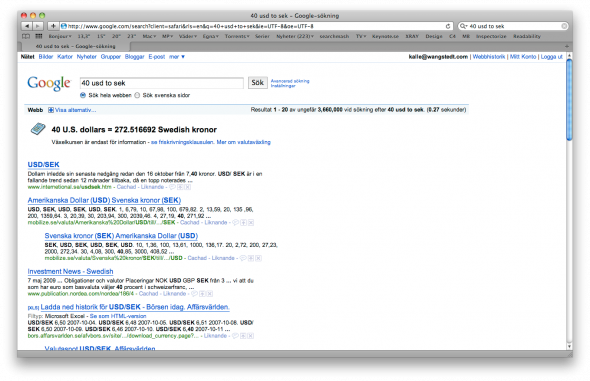 Syntaxen är väldigt enkel att använda. Vill man veta hur mycket 40 dollar är i kronor skriver man 40 usd to sek i sökrutan. Känner man bara till bokstavskoderna för  världens valutor (mer omfattande lista här) så är det en enkel match. Samma sak för enheter. För att få reda på fyra och trekvarts tum i millimeter skriver man 4,75 inch to mm istället. Det går också bra att konvertera grader genom till exempel 37 C to K för att få kroppstemperaturen i kelvin, eller 37 C to F för att se vad amerikanerna har för blodvärme.
Mycket användbart när man snabbt behöver räkna om mellan enheter.
Länkar från andra sajter